About Us
---
MiLife-Victoria is a Not for Profit Community Service Organisation whose purpose is to support individuals to, as much as possible, be in control of their own life and achieve their goals, dreams and aspirations. We proudly do this in partnership with family, carers and their natural supports.
We are Department of Families, Fairness and Housing (DFFH) Quality certified as well as a registered NDIS provider supporting over 250 people in the areas of Day Support, Lifestyle and Recreation options, Individualised community, in-home and personal care support, Support Coordination, Adult Education and Transport.
---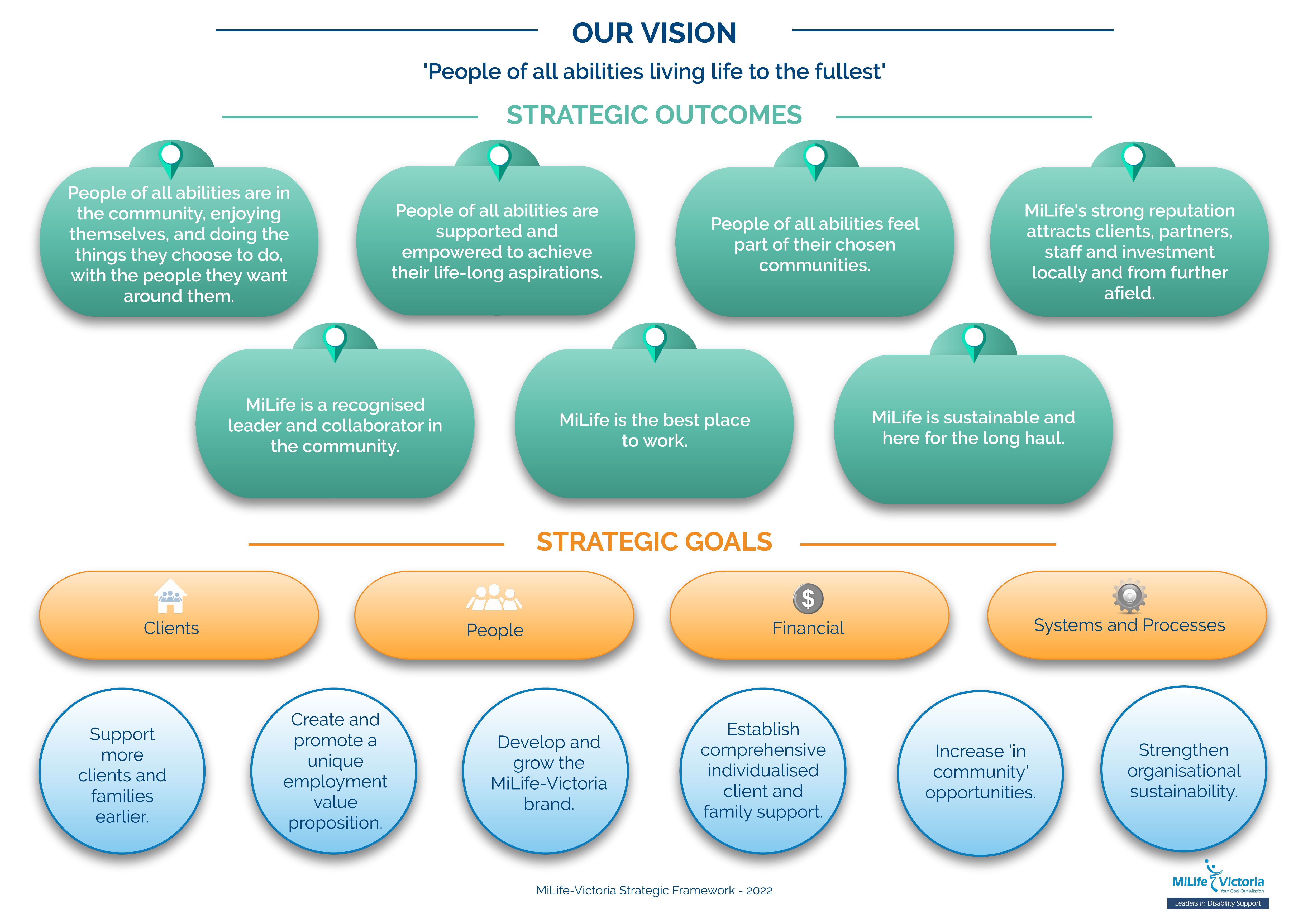 The MiLife-Victoria Strategic Plan
As a care provider, it is MiLife-Victoria's responsibility to champion people of all abilities to have choice and control over their own lives. We call this 'person-led care'. MiLife-Victoria strongly believes that people of all abilities flourish when they are well supported in all areas of their lives. Not only this, but MiLife-Victoria believes that when support across all life areas is harmonised, better outcomes are achieved. To view the Strategic Plan click
here
MiLife-Victoria
has Zero Tolerance around abuse, neglect and violence of people with a disability. Abuse, neglect and violence are
not okay
. As an organisation MiLife-Victoria is committed to act on:
anything that make a person with a disability be or feel unsafe
anything that doesn't support a person's human rights
anything that we could be doing better
A Zero Tolerance commitment is a commitment to recognise, raise and respond to any deviation from the human rights of people who are supported by MiLife-Victoria. We make an organisational commitment to always have our eyes open and always be doing better to support rights. This aligns to MiLife-Victoria's policies and procedures and with our obligations as set out in the Quality and Safeguards Commission
Code of Conduct
.
Our History
---
MiLife-Victoria began in 1992 as the Frankston Community Access Program supporting 14 young people with an intellectual disability. It was one of seven pilot programs across the State established to support students 18 years and over to transition from school into more adult and age appropriate environments.
In the early days the organisation was known as P.A.S.T (Peninsula Access Support and Training). It was rebranded to MiLife-Victoria in 2014, and currently supports over 360 people and their. We have education centres located in Langwarrin, Hastings and Cranbourne, as well as a holiday house in Frankston. We also provide in-home and individual support along with respite and holiday programs.
Over the last 25+ years MiLife-Victoria has continued to provide services to people with a range of disabilities and are proud of the difference that we continue to make in their lives.
We support individuals with a range disabilities including, but not limited to, intellectual, physical, neurological, sensory and psychiatric disability.
In 2016 MiLife-Victoria became a registered provider of the National Disabilities Insurance Scheme (NDIS).
Our Rules
---
MiLife-Victoria's Rules are based on the Model Rules for Incorporated Associations. The MiLife-Victoria Rules is the organisation's constitutional document and forms the foundation of how the organisation is governed.